Attic Insulation Removal Georgetown
YOUR FAMILY'S COMFORT STARTS HERE
Attic Insulation Removal Georgetown
We are a leading attic insulation removal service in Georgetown and the surrounding area. Our technicians are thoroughly trained and experienced in all forms of insulation removal. We can remove the aging and damaged insulation in your attic, then clean the space thoroughly so you can have new insulation installed. We deal with batt, blown-in, and asbestos-free vermiculite insulation in every condition.
Attic insulation that is wet, worn out, or damaged in any way should be replaced to make your living space more comfortable and energy efficient. Dirtied insulation is especially dangerous because it can be hazardous to your health.
Give us a call and we will schedule an inspection. A technician will examine your insulation closely and provide you with a quote. Note that our technicians are respectful of client properties and will leave the attic in the condition they found it.
When To remove Insulation
Knowing when you should have your insulation replaced is not always clear. It's important that you get an expert's opinion to know when it is time, and with which materials it should be replaced.
Give us a call if you suspect or notice the following:
Your attic hasn't been inspected in over a year.
You are concerned with the dust and debris piling in your attic.
Residents are suddenly prone to allergies and respiratory issues.
You have been dealing with pests and wildlife in your attic.
Odours and smells are coming from the attic.
You are having new insulation installed.
You have noticed a dip in your home's energy efficiency.
Your home has failed an energy audit.
Older homes built before 1975 – asbestos insulation is common in these houses, which is considered toxic and dangerous.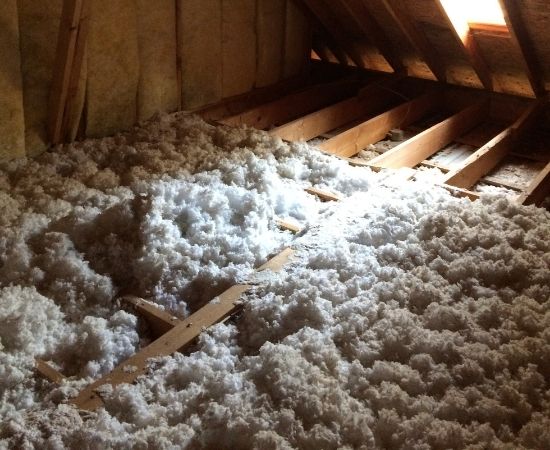 OUR TECHNICIANS ARE CONTINUALLY TRAINED IN THE INDUSTRY'S BEST PRACTICES AND ARE EQUIPPED WITH THE BEST TECHNOLOGY TO REMOVE OLD INSULATION WITHOUT CREATING A MESS AND INSTALLING NEW INSULATION QUICKLY, EFFICIENTLY AND EFFECTIVELY.
Have our experts inspect your attic and recommend you the best course of action
Why Hire Us For Attic Insulation Removal
We have been removing and replacing attic insulation for years. Our technicians are experienced in removing all kinds of insulation from all kinds of attics. We are insulation experts that know how to get the job done. We can remove your attic's insulation quickly and without making any mess. Our pricing is also transparent and highly competitive. We are sure you will be satisfied with our work.
Call us today to book an appointment. A technician will be there soon to inspect your attic and provide you with an accurate quote.
Why Remove Old Insulation?

High energy bills 
Heating and cooling costs in Canada may account for up to 70% of your monthly bill. Poor insulation may be the reason your energy bills cost so much. The insulation in your attic may be failing to conserve the temperature in your home, which makes your HVAC system work harder than it should have to.

Pest Problems 
Mice, rats, squirrels, raccoons, and bats love to den in attics. If you've struggled with wildlife before, there are animal droppings in your attic that are contaminating the air you breathe and rotting the insulation. Your attic should be inspected immediately following animal removal.

Old insulation 
Insulation usually sags with time, so it loses surface area and effectiveness. Older types of insulation usually have lower r-values as well, so they are not as energy efficient. What's worse is that homes built before 1975 may be insulated with asbestos, which has been proven to cause cancer.

Moisture Issues
Your insulation should be replaced if it has gotten wet. Wet insulation does not work properly, and it is likely to develop mold, which will spread and cause serious damage to the walls of the home. Mold will break down the structure of your home and be a hazard to your health.
The cost of having your insulation removed depends on the following factors:
Accessibility – How accessible is your attic? The higher the ceiling, the better. Attics with low clearance take more time to service, therefore they cost more.
Size – Smaller attics yield a higher cost per square foot. This is because we need to mobilize the same number of technicians and pieces of equipment for a smaller space.
Debris – Debris such as nails, plywood, shingles, and animal carcasses risk damaging our machinery. If there is debris in the attic, we will need to use caution. This makes the job take longer and costs more.
Amount of insulation – The more insulation is in the attic, the more it will cost to remove it.
Type of insulation – Cellulose and loose-fill insulation is easiest to remove, therefore it costs less. Batt insulation costs more to remove because it must be cut into pieces and removed manually.
Call us for an exact insulation removal quote. We will inspect and measure your attic and provide a written quotation for your consideration.
DIY VS Professional Attic Insulation Removal

Safety
Working in the attic is not always safe because the space is hot, cramped, and unstable. Professionals have the training and equipment to navigate the attic safely. They can also remove insulation without releasing any material, dust, or germs into the air.

Time 
Removing attic insulation usually takes somewhere between 4 and 7 hours. Amateur work takes twice the time, at least. Hiring a professional is much quicker and much more efficient.

Proper Tools
Professionals have the equipment to get the job done right. They have industrial vacuums, receptacles, and disinfectants to give your attic a proper clean. You can trust that professionals won't dirty the air in your home or spill insulation into the house.

High-Quality Results 
Professionals have the training, experience, and equipment necessary to remove insulation properly. Call us for an inspection and removal service that you can count on.
Have our experts inspect your attic and recommend you the best course of action
Frequently Asked Questions
First, we cut or loosen the insulation, then we vacuum it up. The vacuums we use are directly connected to the bags in our trucks, so no insulation is carried or dragged through the house. Once the insulation is removed, we clean the attic thoroughly with disinfectants and foggers, which kill germs and get rid of odours.
All insulation types can be removed, including blown-in insulation. Blown-in insulation is actually the easiest to remove, so we charge less for it. If you're not sure what kind of insulation you have, we can identify it for you.
There is no need to rent an insulation vacuum because we will do that for you. We have powerful vacuums that are airtight, so we can remove the insulation in your attic without dirtying your home in any way.
Fill out the form below OR call us now to schedule a FREE consultation