Attic Insulation Removal Burlington
YOUR FAMILY'S COMFORT STARTS HERE
Attic Insulation Removal Burlington
We are a leading attic insulation removal service in Burlington and the Greater Toronto Area. We are a team of seasoned professionals, experienced in removing all kinds of insulation. We can inspect, remove, and clean up your attic so that it is ready for fresh, new insulation. We remove blown-in, batt, and asbestos-free vermiculite insulation types.
The attic is a very important part of the house becomes it controls the temperature of your living space. The insulation traps the temperature you want inside the house, which saves you money and prevents damage to the roof. As insulation ages, it becomes less effective. It may also become dirtied with dust, which can trigger allergic reactions and cause breathing problems.
Call us today for an inspection of your attic's insulation. A technician will provide you with a quote and some recommendations. If your insulation needs replacing, we will remove it and clean the space thoroughly at a competitive rate.
When To remove Insulation
Knowing when you should have your insulation replaced is not always clear. It's important that you get an expert's opinion to know when it is time, and with which materials it should be replaced.
Give us a call if you suspect or notice the following:
Haven't inspected your attic for more than a year
Concerned with the dust and debris piling in the attic
Residents suddenly prone to allergies and respiratory issues
When dealing with pests and wildlife in your attic
Odours and smells from the attic
Before installing new insulation
Noticed a dip in energy efficiency
Failed an energy audit
For older homes built before 1975 – asbestos insulation is common in these houses and is considered toxic and dangerous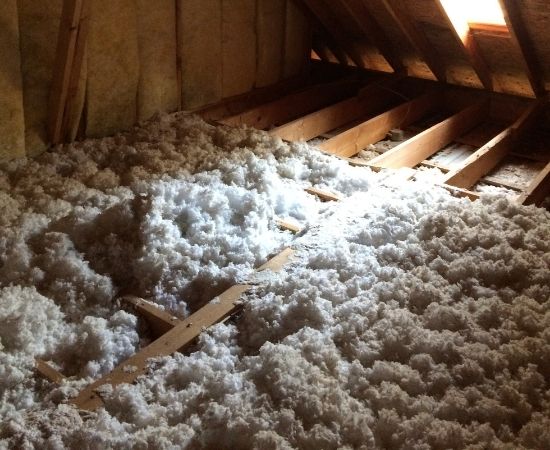 OUR TECHNICIANS ARE CONTINUALLY TRAINED IN THE INDUSTRY'S BEST PRACTICES AND ARE EQUIPPED WITH THE BEST TECHNOLOGY TO REMOVE OLD INSULATION WITHOUT CREATING A MESS AND INSTALLING NEW INSULATION QUICKLY, EFFICIENTLY AND EFFECTIVELY.
Have our experts inspect your attic and recommend you the best course of action
Why Hire Us For Attic Insulation Removal
We have been removing insulation for years. Our technicians know insulation like the backs of their hands and would be happy to help you out. We have the staff, the skills, and the equipment to get rid of insulation quickly and with no mess whatsoever. Whether you are simply replacing your old insulation, or if you have suffered severe leakages or animal invasions, we have got you covered. No matter the attic, we can handle it.
Reach out to us for an inspection and a technician will provide you with a quote that is as accurate and transparent as possible. We are dedicated to providing you with a high-quality service that is quick and affordable.
Why Remove Old Insulation?

High energy bills 
Your attic's insulation may the reason your energy bills cost so much. Without proper insulation, the warmth inside your house goes right up into the attic where it is wasted, forcing your HVAC system to work more than it should. In the summer, the same logic applies – hot air creeps into the house and your air conditioning is wasted.

Pest Problems 
Mice, rats, squirrels, raccoons, and bats love to den in attics. If you've struggled with wildlife before, there are animal droppings in your attic that are contaminating the air you breathe and rotting the insulation. Your attic should be inspected immediately following animal removal.

Old insulation 
Dirtied and aging insulation must be replaced because it either isn't working properly or it is hazardous to your health. Asbestos insulation, which was used in homes built prior to the 1970s, has been proven to cause cancers. Your insulation should be replaced if it is old or outdated.

Moisture Issues
Wet insulation does not work properly, and it risks developing mold. Mold is not only unsightly but highly dangerous as it risks spreading into the walls and causing severe breathing problems.
The cost of having your insulation removed depends on the following factors:
Accessibility – How accessible is your attic? The higher the ceiling, the better. Attics with low clearance take more time to service, therefore they cost more.
Size – Smaller attics yield a higher cost per square foot. This is because we need to mobilize the same number of technicians and pieces of equipment for a smaller space.
Debris – Debris such as nails, plywood, shingles, and animal carcasses risk damaging our machinery. If there is debris in the attic, we will need to use caution. This makes the job take longer and costs more.
Amount of insulation – The more insulation is in the attic, the more it will cost to remove it.
Type of insulation – Cellulose and loose-fill insulation is easiest to remove, therefore it costs less. Batt insulation costs more to remove because it must be cut into pieces and removed manually.
Call us for an exact insulation removal quote. We will inspect and measure your attic and provide a written quotation for your consideration.
DIY VS Professional Attic Insulation Removal

Safety
Most attics are difficult to navigate because the roof is low, and the floor is unstable. Attics also get really hot in the summer, which risks causing heat exhaustion to those who work inside them. Professionals know how to work safely, and they have the equipment to get the job done right.

Time 
Removing attic insulation usually takes somewhere between 4 and 7 hours. Amateur work takes twice the time, at least. Hiring a professional is much quicker and much more efficient.

Proper Tools
Professionals have specialized vacuums that can remove huge quantities of insulation without making any mess. The bags they use trap germs and allergens safely. Technicians also have professional-grade disinfectants and materials to clean attics thoroughly.

High-Quality Results 
Professionals have the training, experience, and equipment necessary to remove insulation properly. Call us for an inspection and removal service that you can count on.
Have our experts inspect your attic and recommend you the best course of action
Frequently Asked Questions
We remove insulation by loosening it or cutting it into pieces, then feeding it into our specialized vacuums. Our vacuums are connected to large bags inside our trucks, so the insulation does not have to be carried out. Once vacuumed, we disinfect the attic space and bring the insulation to the nearest landfill.
Blown-in insulation can absolutely be removed. Blown-in insulation is loose-filled, so it is easy to vacuum up and replace.
You do not need to rent any equipment. We will bring everything we need with us. Our technicians can remove the insulation in your attic, then clean the area so it is as good as new.
Fill out the form below OR call us now to schedule a FREE consultation