your family's comfort starts here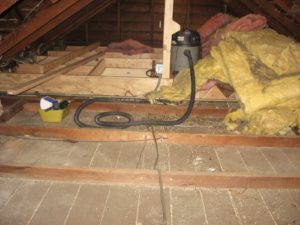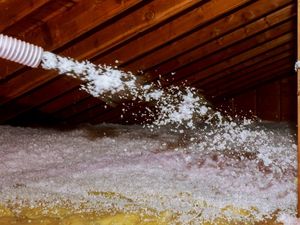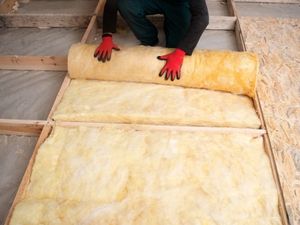 ATTIC CLEANING AND DISINFECTING
SAVING WITH PROPER INSULATION
Attic insulation is a great way to increase energy efficiency and slashing energy bills by 50%! We are blown in insulation experts that specialize in removing and installing insulation. We also inspect attics to make sure they are at their optimal level! Over the years we have helped thousands of homeowners across the region and beyond, to make sure energy, as well as money, Is saved!
R-value basically comes down to the insulation's ability to retain and resist heat and cool air. The warmer it is in the summer, the cooler air you need to tackle the heat. The colder it is in the winter, the more heat you will need to tackle the cold. Right insulation assures the right temperatures without wasting too much unnecessary energy. The higher the R-value, the better the insulation withstands heat or cool air. A lot of advances have been made in the last decade or so, and with these advances come updated building codes. In 1992 for instance, the minimal R-Value was around R-32, in recent times that number has increasingly shot up to a whopping R-50/60! If you live in a heritage home or recently bought a new home, chances are that these R-values might need some updating. Attic Removal Toronto can make sure your insulation is up to today's standards by providing blown in R-50/60 insulation, so you will never be left too cold or too hot!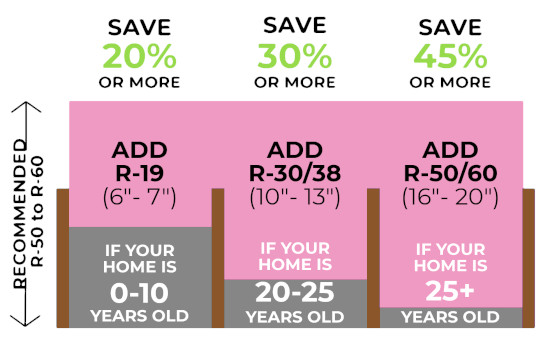 OUR TECHNICIANS ARE CONTINUALLY TRAINED IN THE INDUSTRY'S BEST PRACTICES AND ARE EQUIPPED WITH THE BEST TECHNOLOGY TO REMOVE OLD INSULATION WITHOUT CREATING A MESS AND INSTALLING NEW INSULATION QUICKLY, EFFICIENTLY AND EFFECTIVELY.
Have our experts inspect your attic and recommend you the best course of action

High-quality materials and high R-value

Licensed, Insured & Bonded

Fair and transparent pricing

Modern and high-tech equipment and best practices
WHY REMOVE OLD INSULATION
There are a number of reasons why you might need to replace your old insulation and swap it out with new more durable insulation. Below are some common reasons and circumstances:
After wildlife or pest removal
Mold and mildew on insulation
Asbestos insulation – usually for homes built before 1975
Leaking roof and other moisture issues
Our Attic Insulation Removal Technicians provide high-quality attic insulation remedial services at a very affordable cost. Insulation can easily be contaminated with all kinds of toxicants and substances after exposure to wildlife or moisture! The Attic Insulation Technicians, have the right equipment, knowledge, and workflow to deal with toxic and contaminated spaces like attics that are often poorly ventilated. We dispose of any contaminated material safely and quickly, so that the well-being of occupants will never be in danger!
WHY ATTIC INSULATION IS IMPORTANT?
Attic insulation is important because it guarantees your comfort at home and keeps energy costs and consumption low. Great insulation keeps a good balance between the cold and warm circulating air which also prevents mildew and mold growth. Proper insulation also helps with the longevity of the different furnaces and air conditioners since the usage will always remain low with the right temperatures.
WHAT HAPPENS TO OLD INSULATION
What happens to the old insulation after we replace it and install more efficient insulation? The insulation gets disposed of through PVC hoses and is then stored in insulation bags that are securely sealed. Our workflow is designed in such a way that we avoid contaminating the rest of the house with dust, debris, or other allergens.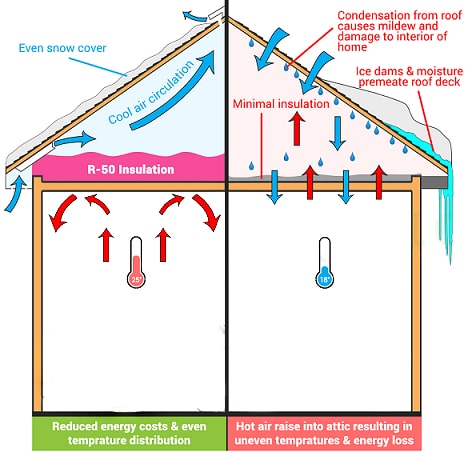 Attic Insulation Removal Toronto is synonymous with high-quality work and services, and we'll go above and beyond to prove that reputation in the field. Hire us and you will see:

Proper Documentation
including bonding, licensing, certification, and insurance

Well-trained, friendly and experienced staff

High-quality materials and high R-value

Fair and transparent pricing

Materials and workmanship
adheres to local and national laws and regulations

Modern and high-tech equipment and best practices
Attic Insulation Removal Services

ATTIC INSULATION REMOVAL – RESIDENTIAL SERVICES
Home sweet home should remain comfortable and at Attic Insulation Removal Toronto we make sure of that with our professional services coupled with unmatched prices performed by experts.

ATTIC INSULATION REMOVAL – COMMERCIAL SERVICES
Commercial properties also require proper insulation. Without it, it will drive the cost up and will result in wasted money. We have insulated high-profile properties in and around Toronto, so you know hiring us is worth the investment.
ADVANTAGES OF BLOWN-IN CELLULOSE INSULATION
ADVANTAGES BATT INSULATION
STEPS INVOLVING BATT INSULATION
Pre-insulation walkthrough
This allows the technicians to understand the scope and the specifics of the job.

Preparation
Technicians clean and air-seal the space to be insulated. Air-sealing may require sealing, caulking, taping, or a combination of the three.

Insulation Installment
This is where the batt insulation is installed. All our insulation materials meet local and national government guidelines and sustainability requirements.
The cost of insulation depends on several factors. Expect the starting cost for a complete install of insulation from 0 to R60 starting around $1.45 per square foot. The final cost will depend on the following factors: Size, the difficulty of installation, amount of cellulose to be added. 
Other considerations to be made:
Improving ventilation – Installing rafter vents will cost extra.
Attic Hatch – Depending on the height of the attic hatch, a parapet wall needs to be constructed. This will cost extra. 
For more detail on the cost and processes, contact our customer service team from Attic Insulation Removal Toronto. 
Have our experts inspect your attic and recommend you the best course of action
Great insulation can last more than 100 years if installed right and can slash energy bills by 80%. Installation costs can be recouped 2-3 years after installation! Our Attic Insulation experts guarantee high-quality work with great results at an affordable price! Our experts can consult you for the right recommendations and provide you with a viable plan of action.
Attics can be heavily contaminated spaces after wildlife has inhabited these poorly ventilated and tight spaces. Urine and feces are usually found together with deteriorated insulation. All of these substances combined can make the attic dangerous to the health of the occupants. Not to mention that attics are often neglected and collect dust for a long time uninterrupted. This makes the probability of airborne allergens going around a real threat to those with an already compromised immune or respiratory system. Attic Insulation Removal Toronto offers thorough decontamination services at an affordable cost which sees immediate results!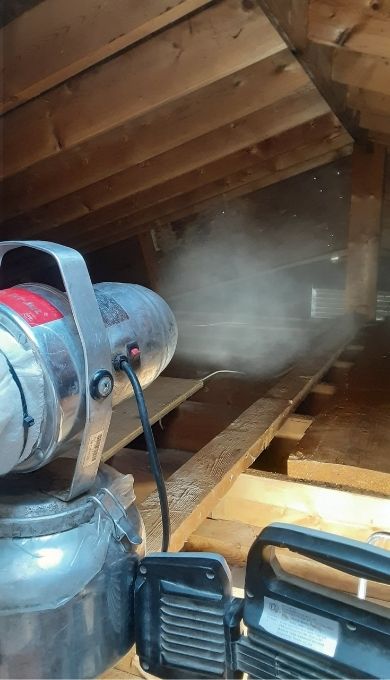 Fill out the form below OR call us now to schedule a FREE consultation